A circle forms around an older woman perusing JACANA's four collections at its New Kingston opening last Friday. It's veteran journalist Barbara Blake-Hannah, and her eyes sparkle above her mask as she absorbs the space as a member of the Cannabis Licensing Authority and someone who has advocated for the legalisation of marijuana for decades.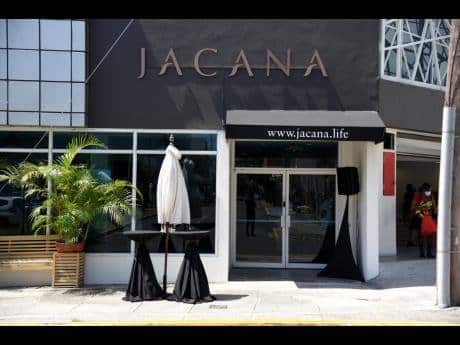 "I'm really happy because I come from the day where we used to roll up spliff in corn trash," she told Living. "I come from the day when if you have a little bit of herb on you, you have to be afraid of [the] police. I've run from police in a ganja field and have really gone through the many stages and lived to see ganja become [decriminalised], and now I see ganja become high quality. This is the Porsche, the Lamborghini of ganja, and as a Rasta, it's even more important to me to see this development and the 'raspect' that ganja has been given by a place like this."
Her delight is justified. The new location, situated at the newly renovated New Kingston Business Centre, offers a bigger space than JACANA Therapeutics' other locations, allowing for the display of more products. Cannabis offerings are thoughtfully arranged in the golden-lit room with a shelf for JACANA's four collections, another for the Jesse Royal's Original line collaboration, and a section for other complementary products like vaporisers, lighters, grinders, rolling boards, trays and tote bags.
In the centre of this cannabis heaven is a display of JACANA's newest items: CBD oil, which reduces anxiety and pain while supporting healthy sleep cycles; CBD lubricant, which increases blood flow and relaxation while decreasing inflammation; CBD relief balm, which offers topical pain relief; and the replenishing massage oil. This section is most impressive to 80-year-old Blake-Hannah as she no longer smokes but "still want my herb because that's what keeps me young so long. It kept my body supple and my health strong, so that's the way to get it."
Onlookers were just as intrigued and stopped by to enquire about the varied strains and costs, going at $600 per gram for products under the Original line and $1,200 per gram for the JACANA collection. First-time customer Omari Reid opted for the soothing uptown cheese, sky juice and herb stallion from the Original line. Reid shared that his friend recommended JACANA's cannabis to help with anxiety.
"We work in a stressful environment, and at times it can be rough, so we use this to actually soothe ourselves and calm down," he said. "This is my first time in here, and based off the experience, I think that it might be reasonable and (will) probably be a good experience when I first try it."
Customers were entertained by JACANA's resident DJ Kevi the Kinetic and artist Kristie Stephenson, who did a live drawing illustrating the journey of cannabis. This unfolded in an adjoined room, which JACANA's Managing Director Kwame Hall says will serve as a café.
"New Kingston is the modern beating heart of corporate Jamaica," Hall said. "Our store in Manor Park addresses the more upscale, residential market while our store in Portmore addresses the everyday person who wants to buy cannabis at an affordable price. New Kingston is a way to really tap into the working class as it's a very high-traffic area. The space is large, which allows us a lot of flexibility to do events, so it was a no-brainer to take this place."
He added that while cannabis underpins their products, they're looking at novel ways for people to consume it.
"We have products people can vape which is healthier than smoking, products people can ingest such as our tinctures, again, which is healthier than smoking, and then our three topical products: our balm, our lubricant, and our massage oil, so it's really just giving people a diversity of ways that they can extract the